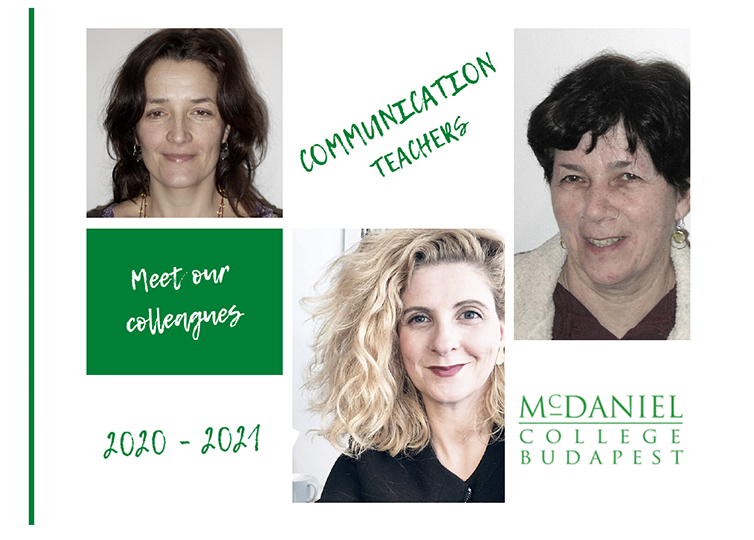 Julia ANDORKA
Education:
Art Therapy Program – Moholy Nagy University of Art and Design, Budapest, Hungary, 2011
MA in Gender Studies – Central European University, Budapest, Hungary, 2001
MA in Art History – Eötvös Loránd University, Budapest, Hungary, 1996
MA in English Language and Linguistics - Eötvös Loránd University, Budapest, Hungary, 1995

Employment:
Adjunct Faculty member of the Pre-Medical Track at McDaniel College Budapest – since 2016
Julia started her career as a teacher of art history. She won a Young Researcher Scholarship by the Hungarian Academy of Sciences and worked as an art historian from 1996 to 1999. She also taught art history at the University of Theatre and Film Arts and created an art history curriculum for students of the university. From 2010 to 2016 she taught English to international students at Central European University, Budapest. She is also running art workshops for children and teenagers at the Hungarian National Gallery, Budapest.

Courses taught:
ESL 1002 Oral Communication Skills I.
ESL 1006 Oral Communication Skills II
Lili MESTERHÁZY
Education:
PhD - on hold – in English Renaissance & Baroque Literature at Eötvös Loránd University, Budapest, Hungary
Fulbright Researcher at Columbia University, New York, USA, 2003-2004
MA in English Literature - University of Sofia, Bulgaria, 1999

Employment:
Adjunct Faculty member of the Pre-Medical Track at McDaniel College Budapest – since 1999
Besides teaching General English and Oral Communication Skills at McDaniel College Budapest, Lili has been working as a reporter, journalist and film critic for various magazines and online platforms.
She was a guest lecturer in the series Shakespeare on Film, BBC centre, Sofia, Bulgaria in 1998-99.
In 2004, she worked as the assistant to the director of the performance of a Brecht play at the Arena Stage in Washington D.C. In 2008, she was an Arts and Culture journalist intern with published interviews in English in Tel Aviv.

PROFESSIONAL MEMBERSHIPS, GRANTS, AWARDS:
Since 2010 National Association of Hungarian Journalists, Budapest, Hungary
2007 ESSE (European Society for the Study of English) researcher at the Shakespeare Institute, Stratford-upon-Avon, England
2003-2004 Fulbright researcher at Columbia University, GSAS, NYC
1997 Association of Hungarians in Bulgaria, Junior Section, Sofia, Bulgaria
1996 English Speaking Union, Junior Section, Sofia, Bulgaria
1998 Bulgarian-speaking Foreigners, National Radio "Hristo Botev", Sofia, Bulgaria

Courses taught:
ESL 1002 Oral Communication Skills I.
ESL 1006 Oral Communication Skills II.
ESL 1001 Fundamentals of Composition
ESL 1003 Critical Reading
Anna SZILÁGYI
Education:
MA in Russian and English Language and Literature, Eötvös Loránd University, Budapest, Hungary, 1972
Participation at numerous teacher training courses organized by IATEFL, Oxford University Press and other publishing houses

Employment:
Adjunct Faculty member of the Pre-Medical Track at McDaniel College Budapest – since 1990

She has been in charge of supervising the content and the implementation of the course material since the start of the program. She has been one of the chief organizers of extra-curricular activities: school trips, film showings, visits to museums, etc. After graduation Anna worked as a high school teacher in Budapest. From 1980 until 1990 she was a lecturer, teaching English and Russian at the Budapest Technical University to undergraduate and graduate students. Besides teaching at the Pre-Medical Track of McDaniel College Budapest, she was also a full time teacher and later Director of Studies at Babilon Language School, Budapest. She also taught English Composition at the degree program of McDaniel College Budapest /earlier Western Maryland College.

Publications, translations
Anna has written book reviews on books in English and French.
She has translated short stories for anthologies and literary magazines from English into Hungarian She translated chapters from the book A Cultural History of Physics from Hungarian into English.
She also participated in compiling and editing course books and teaching materials for students

Courses taught:
ESL 1002 Oral Communication Skills I.
ESL 1006 Oral Communication Skills II.