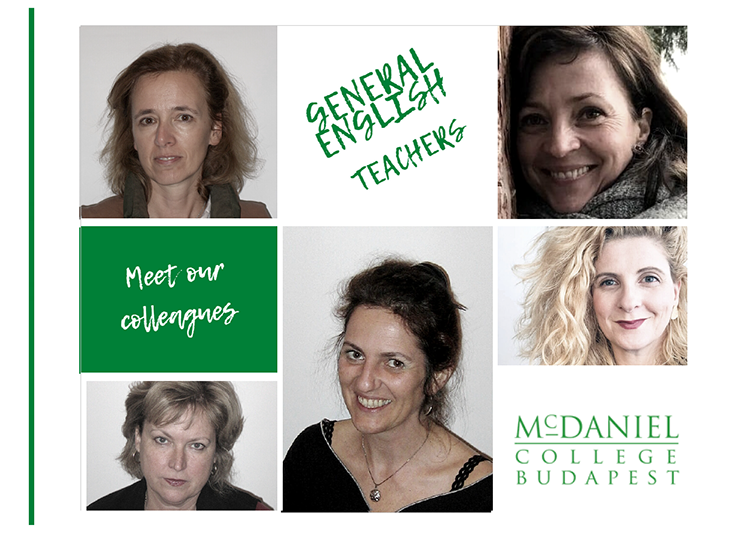 Dóra ESZES
Education:
MA in English Language and Literature, in Literature and Linguistics, Pécs University (formerly Janus Pannonius University) Pécs, Hungary, 1991

Employment:
Adjunct Faculty member of the Pre-Medical Track at McDaniel College Budapest – since 1997 Program Consultant of the Pre-Medical Track at McDaniel College Budapest – since 1999

Dora started off her career as an instructor of English language at the Department of Foreign Languages at Janus Pannonius University, Pécs. After moving to Budapest, she taught English at various places, mostly at Babilon Language School, Budapest. She also worked as a free lance teacher and translator. In addition to being an adjunct faculty member, she has been a staff member carrying out various tasks since 1999. Among several others, these include compiling, devising and supervising the content and the implementation of the course material, managing McDaniel College Budapest Summer Semester, organizing extra-curricular activities on and off campus, and counseling.

Courses taught: ESL 1001 Fundamentals of Composition
ESL 1003 Critical Reading
Julia KOVÁCS
Education:
MA in English and Russian Language and Literature Eötvös Loránd University, Budapest, Hungary, 1983
After graduation, Julia also received the following certificates
Haute Ecole Léonard de Vinci Institute Marie Haps Bruxelles Socrates Mobilty: Teaching Interpreting 2010
European Commission SCIC Certificate in Training for Trainers Bruxelles 2004
Certificate in Teaching Business English London Guildhall University, UK 1993
Certificate in Applied Linguistics University of Essex, UK 1990
Certificate for Professional Translators in English Eötvös Loránd University, Budapest, Hungary 1990

Employment:
Adjunct Faculty member of the Pre-Medical Track at McDaniel College Budapest – 1990
Besides teaching at McDaniel College Budapest, Julia has worked as an English language lecturer and examiner at the Language Institute of the Budapest University of Economics and Technology. She also participated in various conferences and workshops in Hungary and in Belgium.

Courses taught:
ESL 1001 Fundamentals of Composition
ESL 1003 Critical Reading
Orsolya LEHNER
Education:
MA in British and American Studies - Eötvös Loránd University, Budapest, Hungary, 1996
BA, BSc in Mathematics and English Language and Literature - Eötvös Loránd University, Teacher Training College, Budapest, Hungary, 1993
Summer seminars organized by the British Council

Employment:
Adjunct Faculty member of the Pre-Medical Track at McDaniel College Budapest - since 2016
Besides teaching at McDaniel College Budapest, Orsolya also worked at various language schools offering courses for company employees. For many years, she was the exclusive representative of Students' Europe Ltd. organizing visits to London for Hungarian school groups.

Courses taught: ESL 1001 Fundamentals of Composition
ESL 1003 Critical Reading
Lili MESTERHÁZY
Education:
PhD - on hold – in English Renaissance & Baroque Literature at Eötvös Loránd University, Budapest, Hungary
Fulbright Researcher at Columbia University, New York, USA, 2003-2004
MA in English Literature - University of Sofia, Bulgaria, 1999
Employment:
Adjunct Faculty member of the Pre-Medical Track at McDaniel College Budapest – since 1999
Besides teaching General English and Oral Communication Skills at McDaniel College Budapest, Lili has been working as a reporter, journalist and film critic for various magazines and online platforms. She was a guest lecturer in the series Shakespeare on Film, BBC centre, Sofia, Bulgaria in 1998-99. In 2004, she worked as the assistant to the director of the performance of a Brecht play at the Arena Stage in Washington D.C. In 2008, she was an Arts and Culture journalist intern with published interviews in English in Tel Aviv.
PROFESSIONAL MEMBERSHIPS, GRANTS, AWARDS:
Since 2010 National Association of Hungarian Journalists, Budapest, Hungary
2007 ESSE (European Society for the Study of English) researcher at the Shakespeare Institute, Stratford-upon-Avon, England
2003-2004 Fulbright researcher at Columbia University, GSAS, NYC
1997 Association of Hungarians in Bulgaria, Junior Section, Sofia, Bulgaria
1996 English Speaking Union, Junior Section, Sofia, Bulgaria
1998 Bulgarian-speaking Foreigners, National Radio "Hristo Botev", Sofia, Bulgaria
Courses taught:
ESL 1002 Oral Communication Skills I.
ESL 1006 Oral Communication Skills II.
ESL 1001 Fundamentals of Composition
ESL 1003 Critical Reading
Judit SOROSY
Education:
MA in English - Eötvös Loránd University, Budapest, Hungary, 1993

Employment:
Adjunct Faculty member of the Pre-Medical Track at McDaniel College Budapest – since 2006
Before joining McDaniel College Budapest, Judit offered English Language courses at Fast Language school, Budapest (1998-2005) for the employees of different companies / e.g. General Electric, Sanofi, British American Tobbaco, Dreher etc./and also worked at Relaxa Language School (1991 -93). Between 1993 and 1998, she was an English teacher at Toldy High School in Budapest.

Awards:
Teacher of English of the Year – granted by the Ministry of Education – 1998

Courses taught:
ESL 1001 Fundamentals of Composition
ESL 1003 Critical Reading